WEAVES supported by GALAXY RECZ 2ND ANNIVERSARY
date_range 05.08 (Fri) 23:00 / OPEN: 23:00
grade PROGRESSIVE HOUSE,TECH HOUSE,TECHNO
label

DOSEM

U:ICHI

MELTEX

hiroyuki arakawa

TSUTOMU

HOWAKO

Yoshiaki Ito

hiroshi kinoshita

DJ DONGURI

SHODAI (Chapt.)

SHOTARO MAEDA (EDEN)

Shintaro Kume

MUS! (Tokyo Loco)

Visualear(TAKevj)

JUN2

MEGADRILL

JUN

VANITY

VJ Luci

DJ Yoko

KULARKs
JAPAN / KANTO
2-16 MARUYAMA-CHO, SHIBUYA-KU, TOKYO
+81 (0)3 5459 0039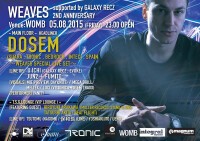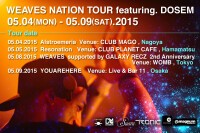 SUARA—the record label that was rated as Beatport's 2014 Tech House Top 1 and ranks in RA's MOST CHARTED.
WEAVES is a party that continues to invite core SUARA artists who are the flavor of the moment. It created a new sensation in Tokyo's Tech House scene and is now celebrating its 2ND ANNIVERSARY!
For our headliner, we have secured the return of DOSEM, an impressive WEAVES artist and the "sun" of Catalonia. He'll be adding his brilliance to this grand anniversary party.
What's more, he's calling this appearance at WOMB his WEAVES SPECIAL LIVE SET and has announced a SPECIAL GIG that will incorporate a LIVE performance.
With an artist who has been included in the TOP techno artists for Beatport 2014 and has been selected as TOUR ARTIST for SPACE IBIZA, this collaboration between DOSEM SOUND and WEAVES is destined to produce the most outstanding chemical reaction.