MUSIC CIRCUS'14
DANCE MUSIC FESTIVAL
05.05 (Mon) 11:00 to 21:00 / 開場10:00 / 開演11:00 / 終演21:00
EDM / Electro

Steve Aoki

Showtek

KREVA

Cedric Gervais

DEORRO

小室哲哉

VERBAL

MARC PANTHER (globe)

DAISHI DANCE

80KIDZ

DJ KOMORI

KENTØ

TAKU-HERO

KICK OFF

Ferry Corsten

YOJI BIOMEHANIKA

LAB4

Sean Tyas

ALEX KIDD

ORGAN DONORS

ESTIVA

REMO-CON

DJ MASTER AZIA

土屋アンナ

板野友美

DJ KAORI

DJS FROM MARS

OFF THE ROCKER (Shinichi Osawa + Masatoshi Uemura)

☆Taku Takahashi

Tomoyuki Tanaka

AMIAYA

ILMARI

PES (RIP SLYME)

DJ usus

CREAM

SHINTARO

DJ YU-MI (清宮佑美)

DJ Hello Kitty

DJ Ai(はるな愛)

ALISA UENO

丸高愛実

DJ FUMI★YEAH!

KSUKE

FUTURE BOYZ

KOJI KUBOTA

大抜卓人

西田新(FM802)

BAN-CHAN

DJ B=BALL

*Groovy workshop.

MINAMI

DJ RUFFTY

DJ REE-AGE(リーゲ)

MC MOGGYY

MACKO

MC AMI

MC RYO

ケンイチ

Mika Kitten

KO-TARO

DJ O-MAN

DJ U.S.K.

RICE
神戸コンベンションセンター(神戸国際会議場) place
JAPAN / KANSAI
神戸市中央区港島中町6-9-1
078-302-5200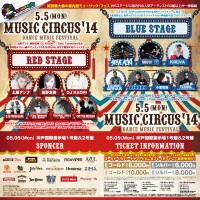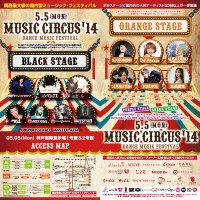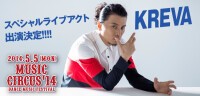 Announcing Kansai's biggest indoor dance music festival, held for the first time in Kobe during Golden Week, May 5th, 2014.

Attention grabbing acts start with Steve Aoki, Verbal, and 80Kidz, with Tetsuya Komuro scheduled to give an invaluable Kansai live performance.
Some of the country's biggest DJs are also scheduled to perform, including Tomoyuki Tanaka (FPM), Daishi Dance, DJ Kaori, and DJ Komori.
More still, the trio of Pes, Usus and Ilmari from Rip Slyme will also make a joint performance.
Cream, who are currently showing huge energy, and DJ Shintaro, who shined at the 2013 Red Bull DJ contest to become the worlds' first Japanese champion, Koji Kubota, Takuto Onuki, Shin Nishida from Kansai local FM802, and DJ Taku-Hero will also be making an ambush!

Over 50 hugely popular national and international artists will come together on four stages.
"Music", "beauty", and "gourmet" can all be enjoyed in a jam-packed day full of high quality entertainment.

More artist announcements, with international headliners starting from Steve Aoki will be included in the third edition!


MUSIC CIRCUS'14

[ date ]
Monday, 05 May 2014 Open 10:00am / Start 11:00am / Close 21:00pm

[ venue ]
Kobe International Exhibition Hall

[ LINE UP ]
- BLUE STAGE -
STEVE AOKI
SHOWTEK
KREVA
CEDRIC GERVAIS
DEORRO
TETSUYA KOMURO
VERBAL (m-flo, TERIYAKI BOYZ)
DJ Marc Panther(globe)
DAISHI DANCE
80KIDZ (LIVE SET)
DJ KOMORI
KENTO a.k.a. DJ KENT
DJ TAKU-HERO VS. KICK OFF

- BLACK STAGE -
FERRY CORSTEN
YOJI
LAB4 (LIVE PA)
SEAN TYAS
ALEX KIDD
ORGAN DONORS
ESTIVA
REMO-CON
MASTER AZIA

- RED STAGE -
Anna Tsuchiya
Tomomi Itano
DJ KAORI
DJS FROM MARS
OFF THE ROCKER
☆Taku Takahashi (m-flo, block.fm)
TOMOYUKI
TANAKA (FPM)
AMIAYA
ILMARI (RIP SLYME)
PES (RIP SLYME)
USUS (RIP SLYME)
CREAM
DJ SHINTARO
DJ Hello Kitty

- ORANGE STAGE -
DJ Ai (Ai Haruna)
ALISA UENO (FIG&VIPER)
Manami Marutaka
DJ FUMI★YEAH!
KSUKE
DJ TAKATO
FUTURE BOYZ
KOJI KUBOTA (FM802) / TAKUTO ONUKI (FM802) / SHIN NISHIDA (FM802)
*Groovy workshop.
DJ BAN-CHAN
DJ B=BALL
DJ MINAMI
DJ RUFFTY
DJREE-AGE
MC MOGGYY
MC MACKO
MC AMI
MC RYO

- PURPLE STAGE - - GREEN STAGE -
DJ KENICHI
DJ KITTEN
KO-TARO
DJ O-MAN
DJ U.S.K
MC RICE
and many more

[ prices ]
★General sales Gold Ticket — ¥8,000★ ifyr.tv/xjn

★General sales Silver Ticket — ¥6,000★ ifyr.tv/xjo
※ You cannot access the "BLUE STAGE" with the Silver Ticket

[ Disclaimer]
Children under 6 not admitted.
Tickets will not be sold on the day of the event if advance ticket sales meet a predetermined number.
A separate fee of ¥500 will be charged for drinks at the entrance. We thank you for your understanding.

[ Contact Us ]
Kyodo Information:+81 6-7732-8888

[ Official Website ]
http://music-circus.jp
http://www.facebook.com/MusicCircus
http://twitter.com/music_circus


[ATTENTION]
▶ Purchasing tickets from individuals, auction sites, cash sales shops and the like will not guarantee you entry. Furthermore reselling tickets for profit is strictly prohibited. Please use only official ticket vendors.
▶ There are a limited number of tickets available for general admission. If they sell out, there will be no tickets available at the door. Furthermore, the availability of tickets on the door will not be announced until the event starts.
▶ Children under the age of six will not be permitted entrance.
▶ A strict ID check will be enforced upon entry to the venue. Please be sure to bring proper photo identification. After the ID check, those who are over the age of 20 will be given one type of wrist band, and those who are under will be given a different kind. If you do not have proper ID, or you forgot to bring your ID, you will be given an under 20 wristband.
▶ Under aged smoking and drinking is strictly forbidden. We will not sell alcohol to those underaged or to those who are driving.
▶ We do not offer replacement tickets in case of damage or loss. Even if you have proof of purchase.
▶ Wristbands can never be reissued due to damage or for any other reason.
▶ If you are found without a wristband you will be promptly removed from the venue. Do not remove the wristband until the end of the festival.
▶ Audio recording devices and video cameras are strictly forbidden during performances.
▶ No pets are allowed on the premisses. The venue has no facility for holding pets.
▶ Your belongs will be searched when you enter the venue. Outside food and beverages will be confiscated.
▶ Any outside food or beverage is strictly prohibited inside the venue.
▶ The use of drugs (including "law evading" drugs) is strictly forbidden. If you are found with drugs you will be promptly removed from the venue.
▶ Smoking is forbidden inside the venue. Please use the designated smoking areas if you would like to smoke.
▶ Those who wish to use the disabled seating area must also purchase a ticket.
▶ The festival/event venue operators, organisers, promoters, and artists cannot be held responsible for lost,
stolen or damaged possessions or accidents resulting in injury occurring anywhere in the venue during the festival/event regardless of fault or reason.
▶ There is no prepared parking area. Please use public transportation.
▶ Customers found fighting, being violent or otherwise disturbing other customers may be removed from the
venue at the staff's discretion.
▶ The event organisers will under no circumstances intervene or become involved in accidents or incidents
caused by customers. Please resolve your issues directly with the other party.
▶ The event organisers cannot be used to resolve issues or be used as a mediator, even with regard to inter-
customer disputes.
▶ Coin lockers are provided for your convenience. Please do not store your valuables in the lockers.
▶ There are coin lockers available inside of the venue but there is only a limited number. We recommend that you bring few belongings.
▶ Calamities, such as earthquakes, typhoons, and volcano eruptions, as well as acts of terror, war or other
unavoidable acts may cause changes to the festival. Please understand that we cannot offer refunds in if
the event becomes canceled.
▶ We cannot offer ticket refunds, exchanges, or cancelations based on the schedule or cancelation of artists'
performances.
▶ Any official merchandise sold in the venue may not be exchanged or returned after purchase with the exception of defective items
▶ Do not damage the natural vegetation at, or around the vicinity of the venue.
▶ Official photography and videography will be taken continuously at the festival. Please understand that you
may appear in future promotional materials.