VITA PRIDE PARTY Live Streamed
"VITA PRIDE PARTY" (aka "Circuit Beat") is the main party of Tokyo Pride Beats 2021, a music festival celebrating LGBTQ+ pride.

This program will be live-streamed for three hours from WARP SHINJUKU, a world-leading club located in Kabukicho, Shinjuku.

The event will include a three-hour set by the legendary DJ SHINKAWA, five go-go dancers including SUSUMU and NAOKI, drag queen VICTORIA STRONDH's special showcase, and rare interviews with the performers. Join us for nonstop fun and excitement, navigated in English and Japanese by two super-fabulous drag queens extraordinaires.

Don't miss the state-of-the-art lighting on Japan's largest circular truss, Solar System, and WARP's unique giant LED screen visuals.

The music will be delivered in the highest quality sound from the on-site PA mixer, so feel free to turn the volume up.

Even those living outside of Tokyo can feel the power and presence of the party as if you were there. Come join us for an amazing experience at VITA PRIDE PARTY.

[CAST]
Pink Grapefruit/Lady-J
DJ SHINKAWA
Gogos: NAOKI/SUSUMU/DAISUKE/KO-SK/NAOTO
Showcase: VICTORIA STRONDH/KENJI/Kensuke
VIP Hostesses: Matsu/Woshiruko Anano/Junko Edamame

[SNSs]
https://twitter.com/VitaTokyo
https://www.instagram.com/vitatokyo/
https://www.facebook.com/VITATokyo/

[Supported by] Jack'd | Andrew Christian

(*) For more information about Tokyo Pride Beats 2021, please refer to https://bit.ly/TPB2021.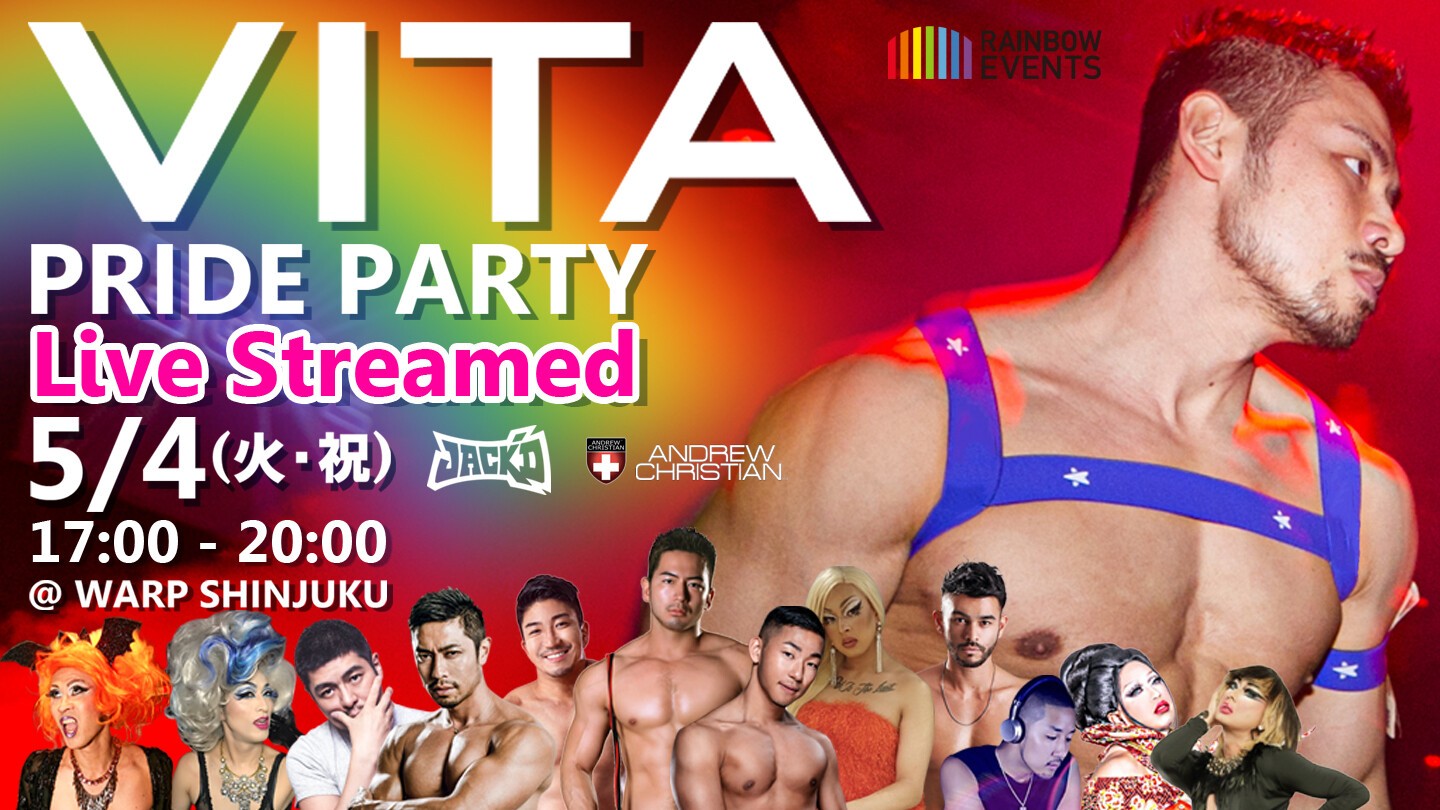 share
Pop-out