BUY NOW
THE WONDERNIGHT -GOLDEN WEEK-
令和"揚羽"元年! Youtube総再生回数10億回以上!Ain't Nobodyの大ヒットで一躍スターダムに! ドイツ出身のトロピカルハウスプロデューサー"Felix Jaehn" GOLDEN WEEKのageHaに初登場!
05.03 (Fri) 23:00
Tropical House

Felix Jaehn

SONE

SHOTA

CYBERJAPAN DANCERS

REZ

DISC JUNKEY

YUYA
ageHa place
JAPAN / KANTO
2-2-10 SIN-KIBA KOTO-KU TOKYO
03-5534-2525
New Era "Reiwa" begin!! German famous producer "Felix Jaehn" coming to GOLDEN WEEK in Japan!!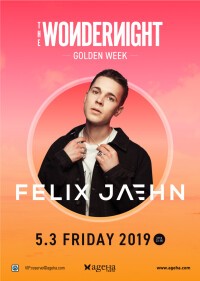 4つのフロアに無数の楽しみ!世界のメインストリームをフューチャーする驚きと喜びの夜。
新元号"令和"の最初、そしてGOLDEN WEENをさらに熱くするパーティーがこちら!

kygoの台頭によって世界的なブームを引き起こしているニュージャンル「トロピカルハウス」
今やJustin BieberやCalvin Harrisまでもがトロピカルハウスのニュアンスを楽曲に取り入れ、まさにシーンのトレンドとなっている。

そのトロピカルハウス界の若き才能、ドイツのFelix Jeahnの来日が決定!
STEVE AOKIとの楽曲"Can't Go Home feat. Adam Lambert"、" Ain't Nobody (Loves Me Better) ft. Jasmine Thompson"のヒットは誰もが聞いたことあるだろう。
リミックスを手掛けたOMIの楽曲"Cheerleader (Felix Jaehn Remix)"はYotube再生回数8億回再生を超えるトップアーティストである。

NOTDやMIKE WILLIAMSとのコラボに、AVICIIのThe Nightsのリミックスまで活躍は多岐にわたる!

そんな彼がageHaの迫力サウンドで初プレイを果たす!



INTERNATIONAL DISCOUNT :

*We offer a special discount service to overseas guests who weren't able to purchase our advance tickets. In order to receive this discount, please bring one of the following forms of I.D.

*Passport / Driver's license / Resident Card except for Japanese

*Copies/Smart Phone Photos are not acceptable.

*You must be 20 years or older to enter and a valid photo ID containing your birthdate is required at the door.


share
Pop-out