BUY NOW
DEROOM 2019
モンスターイベント"DEROOM"今年も開催決定!
date_range 05.04 (Sat) 23:00 to 05:30
grade EDM / HOUSE / TECHNO
label

BLACK JAXX

53+84

DJ HASEBE

RADIO FISH
JAPAN / KANTO
2-2-10 Shin-kiba, Koto-ku, Tokyo
03-5534-2525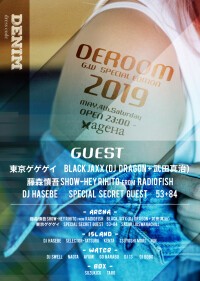 モンスターイベント"DEROOM"今年も開催決定!
BLACK JAXX(武田真治+DJ DRAGON)、東京ゲゲゲイ、藤森慎吾 from RADIO FISH、さらにはスペシャルシークレットゲストも!?
超豪華なGWのスペシャルパーティー!



【ageHa ENGLISH WEBSITE】
http://www.ageha.com/en

INTERNATIONAL DISCOUNT : ¥3,000

*We offer a special discount service to overseas guests who weren't able to purchase our advance tickets. In order to receive this discount, please bring one of the following forms of I.D.
*Passport / Driver's license / Resident Card except for Japanese
*Copies/Smart Phone Photos are not acceptable.
*You must be 20 years or older to enter and a valid photo ID containing your birthdate is required at the door.



share
Pop-out