BUY NOW
#MOVENIGHT_ feat. ROBIN SCHULZ
2018年最後の #MOVENIGHT_ にドイツのプロデューサー"ROBIN SCHULZ"来日! SugarやSun Goes Downなどのヒット曲を提げ、ageHa初登場!
12.15 (Sat) 23:00
EDM / HOUSE

ROBIN SCHULZ

KSUKE

SHOTA

So-on

TEAM X from CYBERJAPAN

MITOMI TOKOTO

CYBERJAPAN DANCERS

SONE
ageHa place
JAPAN / KANTO
2-2-10 SIN-KIBA KOTO-KU TOKYO
03-5534-2525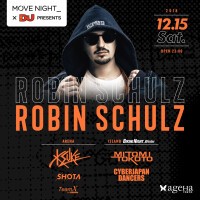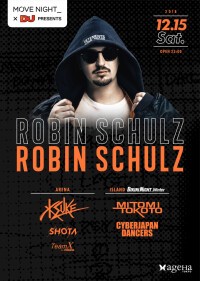 ドイツ生まれのプロデューサー/DJである"Robin Schulz"がageHaに初登場!

大ヒット曲Sugarは3億回以上のYou Tube再生を記録。その他Sun Goes Down、OKなど数億回の再生回数を誇るヒット曲を持ち、日本にも2017年のULTRA JAPANに来日。その人気っぷりを証明した。

4月にJonas Blueを招聘し、フルハウスとなった人気パーティー #MOVENIGHT_ 。2018年のラストを飾るに相応しい、ビッグなブッキングとなった。

ARENAの国内勢は、KSUKEを筆頭に人気・実力を兼ね備えた若手DJたちがラインナップ!CYBERJAPANよりTEAM Xも花を添える。ISLANDではそのCYBERJAPANの大人気パーティー、"BIKINI NIGHT WINTER"がスタート!そして、3月のFINALまで様々なドラマが繰り広げられるだろう。

#MOVENIGHT_ では様々な特典が当たるキャンペーンも実施。
「#MOVENIGHT_」「#ageHarobin」をつけて、Twitter、Instagramに投稿するだけで、抽選でミート&グリートとTシャツが当たるキャンペーンも実施しています!
応募締め切りは12/14(金) 20:00まで!
ageHaアカウントのフォローをお忘れなく!

※※※※※※ WELCOME!! INTERNATIONAL GUESTS ※※※※※※

We offer a special discount service to the guest from overseas who are having a hard time to purchase our advance tickets. In order to receive this discount.
※Passport / Driver's license / Resident Card except for Japanese
※Copies/Smart Phone Photos are not acceptable.
※You must be 20 years or older to enter and a valid photo ID containing your birthdate is required at the door.
share
Pop-out