購入
JOULE 19th Anniversary feat.Re:YABAI Vol.3
07.07 (Sat) 22:00 ~ 05:00
Psychedelic
Club Joule place
JAPAN / KANSAI
大阪市中央区西心斎橋2-11-7 南炭屋町ビル 2・3F
06-6214-1223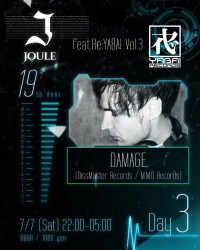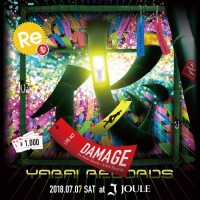 年に一度のYABAI RECORDS Official Party !!!
【Re:YABAI Vol.3】を今年も開催!!!
Special Live ActはYABAI RECORDSと度々コラボレーションし、関西PsyTranceシーンを駆け巡ってきた「DAMAGE」!!!2年ぶりの大阪上陸!!
個性あふれるブッといYABAI SOUNDが、漫画でトリッピーな七夕の夜を演出しますッ!!!
We Make You Say YABAI !!!!!

Special Live Act :
DAMAGE (Diss Master Records / M.M.D Records)

DJ sets :
EIJI (裏 F.T.C / YABAI RECORDS)
ANNY
Kuwasako
and...
YABAI REC DJs !!!!


【3rd Secret】

Secret Special YABAI floor !!!!!


【4th Progressive/Techno】
SHU (ELECTRONYX / Digital Vision)
O-MAN (ALKALOID)
SENOH (EXODUS)
KENYA (black rock)
HOGEKO (IDPS)

Special DECO :
SEIKOU

YABAI VJ :
TAKA-C

and many many more.

———————————————
YABAI RECORDS comes back and makes psy trance and techno dance party in Osaka city.
We create so special event with 2rooms and beautiful deco and visuals.
That is called The world of MANGA !!!
And This YABAI party admission is only 1000yen !!!!
We are waiting many foreign country friends and make you say YABAI !!!!
See you in Osaka city !!!!!!
share
新規ウィンドウ