購入
DAZN World Freestyle Masters 2018
02.22 (Thu) DOOR: 17:00 START: 18:30 ~ 21:15
Others
LIQUIDROOM place
JAPAN / KANTO
東京都渋谷区東3-16-6
03-5464-0800
DAZN World Freestyle Mastersが東京で開催!世界トップのフリースタイルフットボールのパフォーマーが集結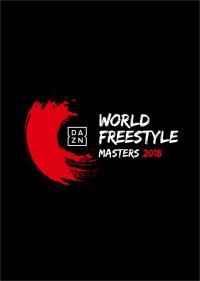 DAZN World Freestyle Mastersが東京で開催! 世界トップのフリースタイルフットボールのパフォーマーが集結

2018年2月22日、恵比寿のLIQUIDROOM(リキッドルーム)にて、DAZN World Freestyle Masters(DAZNワールドフリースタイルマスターズ)の開催が決定しました。世界で最も才能溢れるサッカーのフリースタイラーたちが東京に集結します。

世界ランキングの順位や実績に基づき選出された男子16名、女子8名のフリースタイラーたちが1対1で技を競い合い、優勝を目指します。

フリースタイルフットボールは世界中で月間5000万人の視聴者に親しまれています。今回、大会のメインスポンサーにDAZNを迎えることで、さらに視聴者数の増加が見込まれます。

日本サッカーのトップリーグであるJリーグの独占放映を行っているDAZNは、国際的な市場で最も急速に成長しているスポーツ配信OTTソリューションの1つです。DAZNでは本イベントに加え、誕生25周年を迎えるJリーグのJ1、J2、J3全試合をライブでご覧いただけます。また、サッカーに加えて様々なスポーツをライブで提供しております。

大会の女子部門では、2017年World Open Super Ball世界大会優勝者である18歳のイギリス代表リヴ・クックが出場します。男子部門では、世界大会のタイトルを5回獲得した経験を持つイギリス代表のアンドリュー・ヘンダーソンが審査員として東京大会に参戦。怪我を負っている2016年World RBSS 王者のアルゼンチン代表チャーリーの代わって注目を集めているのが、ブラジル代表のリカルディーニョとポーランド代表のミクリッツです。我らが日本代表の勝山耀も加わり、各国代表の戦いに期待が高まります。

イベント前売り券のチケットはiFLYERにて600円で発売予定です。

本大会は、カナダ・トロント市に本部を置く世界フリースタイルフットボール協会認可の大会です。


Tokyo welcomes the world's best football freestylers for DAZN World Freestyle Masters.

Tokyo is getting ready for the visit of the world's most talented football freestylers, who will be in Japan for one week to compete at the DAZN World Freestyle Masters. This marquee event will take place on 22nd February 2018 at the prestigious Liquid Rooms venue in Japan's capital city.

After qualifying through their successes and position in the official world rankings, the best 16 male and 8 female freestyle athletes in the world will battle it out head to head in a bid to become the World male and female Freestyle Football Champion 2018.

The sport of freestyle football is enjoyed globally by a monthly audience of over 50 million people, a number set to continue to rise thanks to the involvement of the headline sponsor for this event, DAZN.

DAZN is the exclusive broadcaster for the J.League – Japan's professional football league and is one of the fastest growing OTT platforms in a number of markets around the world, offering a wide variety of premium live sport The DAZN World Freestyle Masters will be broadcast ahead of the opening weekend for the 25th anniversary of J.League as a celebration of football in Japan. DAZN subscribers in Japan will be able to watch the event and every game from J1, J2 and J3 live and exclusive on the platform..

In the female competition, the UK's Liv Cooke is looking to take a second World Title at the age of 18, after winning the World Open Super Ball 2017. The male scene has been long dominated by the UK's Andrew Henderson, but after 5 World Titles, he will be taking the head judge role in Tokyo and with the 2016 World RBSS Champion, Charly from Argentina injured, all eyes will be on the current highest ranked athletes today, Ricardinho (Brazil) and Michryc (Poland). Japan's own Champion Yo Katsuyama will be competing in front of his home crowd and pushing to make a big impact.

Tickets for the event are just 600 Yen and can be purchased in advance at iFLYER

The event is accredited by the World Freestyle Football Association, which is the world governing body for the sport, headquartered in Canada.

share
新規ウィンドウ